Evangelio según San Lucas
Índice de capítulos
Prólogo-1. 2. 3. 4. 5. 6. 7. 8.
9. 10. 11. 12. 13. 14. 15. 16.
17. 18. 19. 20. 21. 22. 23. 24.
Capítulo 19
1 Jesús entró en Jericó y atravesaba la cuidad.
2 Allí vivía un hombre muy rico llamado Zaqueo, que era el jefe de los publicanos.
3 El quería ver quién era Jesús, pero no podía a causa de la multitud, porque era de baja estatura.
4
Entonces se adelantó y subió a un sicomoro para poder verlo, porque iba a pasar por allí,
5 Al llegar a ese lugar, Jesús miró hacia arriba y le dijo: «Zaqueo, baja pronto, porque hoy tengo que alojarme en tu casa».
6 Zaqueo bajó rápidamente y lo recibió con alegría.
7 Al ver esto, todos murmuraban, diciendo: «Se ha ido a alojar en casa de un pecador».
8 Pero Zaqueo dijo resueltamente al Señor: «Señor, voy a dar la mitad de mis bienes a los pobres, y si he perjudicado a alguien, le daré cuatro veces más».
9 Y Jesús le dijo: «Hoy ha llegado la salvación a esta casa, ya que también este hombres es un hijo de Abraham,
10 porque el Hijo del hombre vino a buscar y a salvar lo que estaba perdido».
11 Como la gente seguía escuchando, añadió una parábola, porque estaba cerca de Jerusalén y ellos pensaban que el Reino de Dios iba a aparecer de un momento a otro.
12 El les dijo: «Un hombre de familia noble fue a un país lejano para recibir la investidura real y regresar en seguida.
13 Llamó a diez de sus servidores y les entró cien monedas de plata a cada uno, diciéndoles: «Háganlas producir hasta que yo vuelva».
14 Pero sus conciudadanos lo odiaban y enviaron detrás de él una embajada encargada de decir: «No queremos que este sea nuestro rey».
15 Al regresar, investido de la dignidad real, hizo llamar a los servidores a quienes había dado el dinero, para saber lo que había ganado cada uno.
16 El primero se presentó y le dijo: «Señor, tus cien monedas de plata han producido diez veces más».
17 «Está bien, buen servidor, le respondió, ya que has sido fiel en tan poca cosa, recibe el gobierno de diez ciudades».
18 Llegó el segundo y el dijo: «Señor, tus cien monedas de plata han producido cinco veces más».
19 A él también le dijo: «Tú estarás al frente de cinco ciudades».
20 Llegó el otro y le dijo: «Señor, aquí tienes tus cien monedas de plata, que guardé envueltas en un pañuelo.
21 Porque tuve miedo de ti, que eres un hombre exigentes, que quieres percibir lo que no has depositado y cosechar lo que no has sembrado».
22 El le respondió: «Yo te juzgo por tus propias palabras, mal servidor. Si sabías que soy un hombre exigentes, que quiero percibir lo que no deposité y cosechar lo que no sembré,
23 ¿por qué no entregaste mi dinero en préstamo? A mi regreso yo lo hubiera recuperado con intereses»
24 Y dijo a los que estaban allí: «Quítenle las cien monedas y dénselas al que tiene diez veces más».
25 «¡Pero, señor, le respondieron, ya tiene mil!».
26 «Les aseguro que al que tiene, se le dará; pero al que no tiene, se le quitará aún lo que tiene.
27 En cuanto a mis enemigos, que no me han querido por rey, tráiganlos aquí y mátenlos en mi presencia»».
28 Después de haber dicho esto, Jesús siguió adelante, subiendo a Jerusalén.
29 Cuando se acercó a Betfagé y Betania, al pie del monte llamado de los Olivos, envió a dos de sus discípulos, diciéndoles:
30 «Vayan al pueblo que está enfrente y, al entrar, encontrarán un asno atado, que nadie ha montado todavía. Desátenlo y tráiganlo;
31 y si alguien les pregunta: «¿Por qué lo desatan?», respondan: «El Señor lo necesita».
32 Los enviados partieron y encontraron todo como él les había dicho.
33 Cuando desataron el asno, sus dueños les dijeron: «¿Por qué lo desatan?».
34 Y ellos respondieron: «El Señor lo necesita».
35 Luego llevaron el asno adonde estaba Jesús y, poniendo sobre él sus mantos, lo hicieron montar.
36 Mientras él avanzaba, la gente extendía sus mantos sobre el camino.
37 Cuando Jesús se acercaba a la pendiente del monte de los Olivos, todos los discípulos, llenos de alegría, comenzaron a alabar a Dios en alta voz, por todos los milagros que habían visto.
38 Y decían:»¡Bendito sea el Rey que viene en nombre del Señor! ¡Paz en el cielo y gloria en las alturas!».
39 Algunos fariseos que se encontraban entre la multitud le dijeron: «Maestro, reprende a tus discípulos».
40 Pero él respondió: «Les aseguro que si ellos callan, gritarán las piedras
41 Cuando estuvo cerca y vio la ciudad, se puso a llorar por ella,
42 diciendo: «¡Si tú también hubieras comprendido en ese día el mensaje de paz! Pero ahora está oculto a tus ojos.
43 Vendrán días desastrosos para ti, en que tus enemigos te cercarán con empalizadas, te sitiarán y te atacarán por todas partes.
44 Te arrasarán junto con tus hijos, que están dentro de ti, y no dejarán en ti piedra sobre piedra, porque no has sabido reconocer el tiempo en que fuiste visitada por Dios».
45 Y al entrar al Templo, se puso a echar a los vendedores,
46 diciéndoles: «Está escrito: Mi casa será una casa de oración, pero ustedes la han convertido en una cueva de ladrones».
47 Y diariamente enseñaba en el Templo. Los sumos sacerdotes, los escribas y los más importantes del pueblo, buscaban la forma de matarlo.
48 Pero no sabían cómo hacerlo, porque todo el pueblo lo escuchaba y estaba pendiente de sus palabras.
Evangelio según San Lucas
Índice de capítulos
Prólogo-1. 2. 3. 4. 5. 6. 7. 8.
9. 10. 11. 12. 13. 14. 15. 16.
17. 18. 19. 20. 21. 22. 23. 24.
Luke
Chapter 19
1
1 He came to Jericho and intended to pass through the town.
2
Now a man there named Zacchaeus, who was a chief tax collector and also a wealthy man,
3
was seeking to see who Jesus was; but he could not see him because of the crowd, for he was short in stature.
4
So he ran ahead and climbed a sycamore tree in order to see Jesus, who was about to pass that way.
5
When he reached the place, Jesus looked up and said to him, «Zacchaeus, come down quickly, for today I must stay at your house.»
6
And he came down quickly and received him with joy.
7
When they all saw this, they began to grumble, saying, «He has gone to stay at the house of a sinner.»
8
But Zacchaeus stood there and said to the Lord, «Behold, half of my possessions, Lord, I shall give to the poor, and if I have extorted anything from anyone I shall repay it four times over.»
9
2 And Jesus said to him, «Today salvation has come to this house because this man too is a descendant of Abraham.
10
3 For the Son of Man has come to seek and to save what was lost.»
11
4 While they were listening to him speak, he proceeded to tell a parable because he was near Jerusalem and they thought that the kingdom of God would appear there immediately.
12
So he said, «A nobleman went off to a distant country to obtain the kingship for himself and then to return.
13
He called ten of his servants and gave them ten gold coins 5 and told them, 'Engage in trade with these until I return.'
14
His fellow citizens, however, despised him and sent a delegation after him to announce, 'We do not want this man to be our king.'
15
But when he returned after obtaining the kingship, he had the servants called, to whom he had given the money, to learn what they had gained by trading.
16
The first came forward and said, 'Sir, your gold coin has earned ten additional ones.'
17
He replied, 'Well done, good servant! You have been faithful in this very small matter; take charge of ten cities.'
18
Then the second came and reported, 'Your gold coin, sir, has earned five more.'
19
And to this servant too he said, 'You, take charge of five cities.'
20
Then the other servant came and said, 'Sir, here is your gold coin; I kept it stored away in a handkerchief,
21
for I was afraid of you, because you are a demanding person; you take up what you did not lay down and you harvest what you did not plant.'
22
He said to him, 'With your own words I shall condemn you, you wicked servant. You knew I was a demanding person, taking up what I did not lay down and harvesting what I did not plant;
23
why did you not put my money in a bank? Then on my return I would have collected it with interest.'
24
And to those standing by he said, 'Take the gold coin from him and give it to the servant who has ten.'
25
But they said to him, 'Sir, he has ten gold coins.'
26
'I tell you, to everyone who has, more will be given, but from the one who has not, even what he has will be taken away.
27
Now as for those enemies of mine who did not want me as their king, bring them here and slay them before me.'»
28
6 After he had said this, he proceeded on his journey up to Jerusalem.
29
As he drew near to Bethphage and Bethany at the place called the Mount of Olives, he sent two of his disciples.
30
He said, «Go into the village opposite you, and as you enter it you will find a colt tethered on which no one has ever sat. Untie it and bring it here.
31
And if anyone should ask you, 'Why are you untying it?' you will answer, 'The Master has need of it.'»
32
So those who had been sent went off and found everything just as he had told them.
33
And as they were untying the colt, its owners said to them, «Why are you untying this colt?»
34
They answered, «The Master has need of it.»
35
So they brought it to Jesus, threw their cloaks over the colt, and helped Jesus to mount.
36
As he rode along, the people were spreading their cloaks on the road;
37
and now as he was approaching the slope of the Mount of Olives, the whole multitude of his disciples began to praise God aloud with joy for all the mighty deeds they had seen.
38
They proclaimed: «Blessed is the king who comes in the name of the Lord. 7 Peace in heaven and glory in the highest.»
39
Some of the Pharisees in the crowd said to him, «Teacher, rebuke your disciples.» 8
40
He said in reply, «I tell you, if they keep silent, the stones will cry out!»
41
9 As he drew near, he saw the city and wept over it,
42
saying, «If this day you only knew what makes for peace – but now it is hidden from your eyes.
43
10 For the days are coming upon you when your enemies will raise a palisade against you; they will encircle you and hem you in on all sides.
44
They will smash you to the ground and your children within you, and they will not leave one stone upon another within you because you did not recognize the time of your visitation.»
45
Then Jesus entered the temple area 11 and proceeded to drive out those who were selling things,
46
saying to them, «It is written, 'My house shall be a house of prayer, but you have made it a den of thieves.'»
47
And every day he was teaching in the temple area. The chief priests, the scribes, and the leaders of the people, meanwhile, were seeking to put him to death,
48
but they could find no way to accomplish their purpose because all the people were hanging on his words.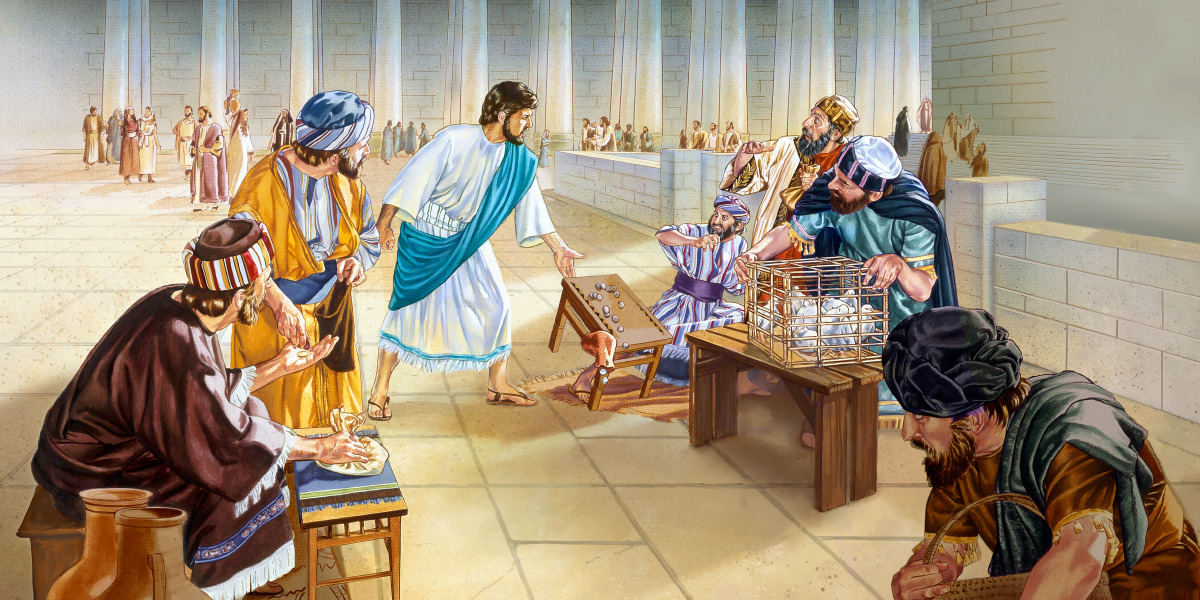 9. 10. 11. 12. 13. 14. 15. 16.
17. 18. 19. 20. 21. 22. 23. 24.
Vangelo secondo luca
Capitolo 19
[1] Entrato in Gerico, attraversava la città.
[2] Ed ecco un uomo di nome Zaccheo, capo dei pubblicani e ricco,
[3] cercava di vedere quale fosse Gesù, ma non gli riusciva a causa della folla, poiché era piccolo di statura.
[4] Allora corse avanti e, per poterlo vedere, salì su un sicomoro, poiché doveva passare di là.
[5] Quando giunse sul luogo, Gesù alzò lo sguardo e gli disse: «Zaccheo, scendi subito, perché oggi devo fermarmi a casa tua».
[6]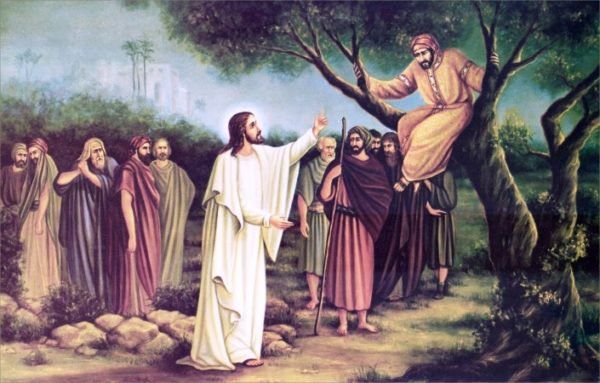 In fretta scese e lo accolse pieno di gioia.
[7] Vedendo ciò, tutti mormoravano: «È andato ad alloggiare da un peccatore!».
[8] Ma Zaccheo, alzatosi, disse al Signore: «Ecco, Signore, io do la metà dei miei beni ai poveri; e se ho frodato qualcuno, restituisco quattro volte tanto».
[9] Gesù gli rispose: «Oggi la salvezza è entrata in questa casa, perché anch'egli è figlio di Abramo;
[10] il Figlio dell'uomo infatti è venuto a cercare e a salvare ciò che era perduto».
[11] Mentre essi stavano ad ascoltare queste cose, Gesù disse ancora una parabola perché era vicino a Gerusalemme ed essi credevano che il regno di Dio dovesse manifestarsi da un momento all'altro.
[12] Disse dunque: «Un uomo di nobile stirpe partì per un paese lontano per ricevere un titolo regale e poi ritornare.
[13] Chiamati dieci servi, consegnò loro dieci mine, dicendo: Impiegatele fino al mio ritorno.
[14] Ma i suoi cittadini lo odiavano e gli mandarono dietro un'ambasceria a dire: Non vogliamo che costui venga a regnare su di noi.
[15] Quando fu di ritorno, dopo aver ottenuto il titolo di re, fece chiamare i servi ai quali aveva consegnato il denaro, per vedere quanto ciascuno avesse guadagnato.
[16] Si presentò il primo e disse: Signore, la tua mina ha fruttato altre dieci mine.
[17] Gli disse: Bene, bravo servitore; poiché ti sei mostrato fedele nel poco, ricevi il potere sopra dieci città.
[18] Poi si presentò il secondo e disse: La tua mina, signore, ha fruttato altre cinque mine.
[19] Anche a questo disse: Anche tu sarai a capo di cinque città.
[20] Venne poi anche l'altro e disse: Signore, ecco la tua mina, che ho tenuta riposta in un fazzoletto;
[21] avevo paura di te che sei un uomo severo e prendi quello che non hai messo in deposito, mieti quello che non hai seminato.
[22] Gli rispose: Dalle tue stesse parole ti giudico, servo malvagio! Sapevi che sono un uomo severo, che prendo quello che non ho messo in deposito e mieto quello che non ho seminato:
[23] perché allora non hai consegnato il mio denaro a una banca? Al mio ritorno l'avrei riscosso con gli interessi.
[24] Disse poi ai presenti: Toglietegli la mina e datela a colui che ne ha dieci
[25] Gli risposero: Signore, ha già dieci mine!
[26] Vi dico: A chiunque ha sarà dato; ma a chi non ha sarà tolto anche quello che ha.
[27] E quei miei nemici che non volevano che diventassi loro re, conduceteli qui e uccideteli davanti a me».
[28] Dette queste cose, Gesù proseguì avanti agli altri salendo verso Gerusalemme.
[29] Quando fu vicino a Bètfage e a Betània, presso il monte detto degli Ulivi, inviò due discepoli dicendo:
[30] «Andate nel villaggio di fronte; entrando, troverete un puledro legato, sul quale nessuno è mai salito; scioglietelo e portatelo qui.
[31] E se qualcuno vi chiederà: Perché lo sciogliete?, direte così: Il Signore ne ha bisogno».
[32] Gli inviati andarono e trovarono tutto come aveva detto.
[33] Mentre scioglievano il puledro, i proprietari dissero loro: «Perché sciogliete il puledro?».
[34] Essi risposero: «Il Signore ne ha bisogno».
[35] Lo condussero allora da Gesù; e gettati i loro mantelli sul puledro, vi fecero salire Gesù.
[36] Via via che egli avanzava, stendevano i loro mantelli sulla strada.
[37] Era ormai vicino alla discesa del monte degli Ulivi, quando tutta la folla dei discepoli, esultando, cominciò a lodare Dio a gran voce, per tutti i prodigi che avevano veduto, dicendo:
[38] «Benedetto colui che viene,
il re, nel nome del Signore.
Pace in cielo
e gloria nel più alto dei cieli!».
[39] Alcuni farisei tra la folla gli dissero: «Maestro, rimprovera i tuoi discepoli».
[40] Ma egli rispose: «Vi dico che, se questi taceranno, grideranno le pietre».
[41] Quando fu vicino, alla vista della città, pianse su di essa, dicendo:
[42] «Se avessi compreso anche tu, in questo giorno, la via della pace. Ma ormai è stata nascosta ai tuoi occhi.
[43] Giorni verranno per te in cui i tuoi nemici ti cingeranno di trincee, ti circonderanno e ti stringeranno da ogni parte;
[44] abbatteranno te e i tuoi figli dentro di te e non lasceranno in te pietra su pietra, perché non hai riconosciuto il tempo in cui sei stata visitata».
[45] Entrato poi nel tempio, cominciò a cacciare i venditori,
[46] dicendo: «Sta scritto:
La mia casa sarà casa di preghiera.
Ma voi ne avete fatto una spelonca di ladri!».
[47] Ogni giorno insegnava nel tempio. I sommi sacerdoti e gli scribi cercavano di farlo perire e così anche i notabili del popolo;
[48] ma non sapevano come fare, perché tutto il popolo pendeva dalle sue parole.
9. 10. 11. 12. 13. 14. 15. 16.
17. 18. 19. 20. 21. 22. 23. 24.